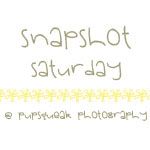 Welcome back to Snapshot Saturday! This week's theme is....Architecture!
This week's judge is... Jessica from
Image-ine
!
Rules
1. You may only enter one photo per week. You must have taken the photo yourself.
2. You must include include the button(above) in your post(or in a comment if your are using Flickr to link-up) or add the link to the current Snapshot Saturday.
3. You may either post or use Flickr to link-up.
4. You must link-up by Wenesday night.
5. No inappropriate pictures, all must be rated G or PG.
6. I have the right to disqualify and/or delete any photo out the link-up that does not follow the rules.
7. If you have more then one photo in your post please specify which one you are entering.