Hey everybody welcome back to Snapshot Saturday! Next week I will have a surprise for you. :-)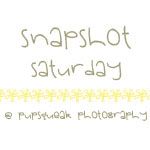 This week's theme is... Fall!
This week's judge is... me!
Rules
1. You may only enter one photo per week. You must have taken the photo yourself.
2. You must include include the button(above) in your post(or in a comment if your are using Flickr to link-up) or add the link to the current Snapshot Saturday.
3. You may either post or use Flickr to link-up.
4. You must link-up by Wenesday night.
5. No inappropriate pictures, all must be rated G or PG.
6. I have the right to disqualify and/or delete any photo out the link-up that does not follow the rules.
7. If you have more then one photo in your post please specify which one you are entering.
Kelly-Anne
from
Beautiful Girlhood
!
Jessica said: "They were all good, but Kelly-Anne's shot was especially great because of the interesting angle. The black and white also adds intensity to the shot and helps the viewer to focus on the lines on the roof."
In second place is:
Lily
from
Belle Fleur Photography
!
In third place is...
Jessica
from
Shutter Speed Pictures
!
Congrats winners! You can grab a button by clicking Snapshot Saturday at the top of the page. :-) Thanks for judging Jessica! Want to judge? Comment here or
e-mail me
.